Let me just say this first... last year, my heart was given to glitters.
OPI's Mad as a Hatter
made me smile every time I saw it on my nails. Sad to say, I can't find it anymore... and just can't find a reasonable dupe of it... *cries*
This year, I've found myself drawn increasingly to duochromes... multichromes. A friend just asked me exactly what a duochrome is... so I did some looking around... you know what? there isn't a definition found the dictionary. So here's my definition after some thinking. You know how when you look at an oil spill in sunlight, it shimmers with all sorts of colors depending on the angle you're looking at? that's a quality of duochromes. Every angle you look at them, you see different colors. Some have only two or three shades. For example, blue and greens and teals... or magenta, purples and pinks... while others have so many colors that they are like opening a jewel case never knowing what gemstone you'd get.
I haunt a few nail polish blogs and when I saw this particular shade... well, I fell in love with it. What first really sold me on this color was AllLacqueredUp's
blog post
... it looked like something from outer space literally. Mysterious and other worldly.
Then I headed to google images (one of my favourite places to find swatches) to see what other pics there were... here's just a snapshot of what I found.
I used this shade this year for Chinese New Year and I think it just added a little bit of fun to my otherwise "sane" outfits.
These pictures were posted before but here they are again...
ORLY's SPACE CADET
...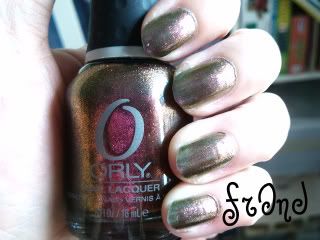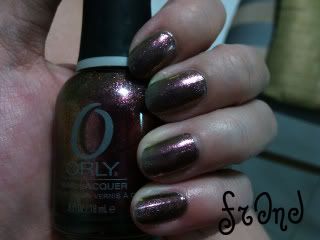 I wonder what my next nail polish love will be... it sure isn't crackle nail polishes... although they're lots of fun! *grin*