First up, what I refer to as my cute heels. They aren't formal at all and not what I expect to see from heels. The brand is North Star which normally sells track/running shoes. Hence the casualness of these I guess.
Like I said in the last post, original price was RM89.90. Got them at a whopping 70% off. So after taking into consideration the FX rate, price for me was S$20/US$14.
Love the teal blue and white. Got a lovely teal long dress that would match pretty much perfectly *happy happy*
and look at the heels. Gotta make sure to practice a little before leaving the house. Haven't really used heels this high since I've had kids and that's… erm… 9 years ago?
On to something a little more ethnic. If you were to meet a Peranakan woman a couple decades ago, chances are high that she'd be wearing one of these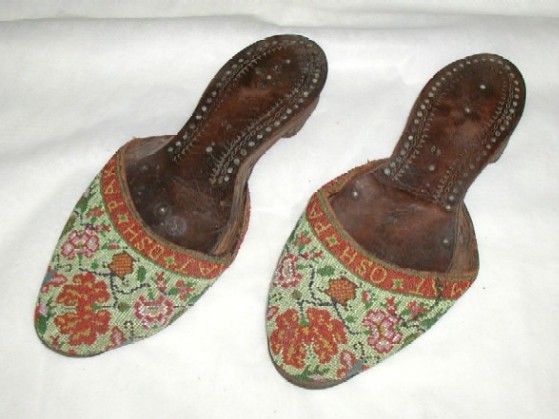 (pic from here)
Well, personally, I don't like the old fashioned look of these and prefer to have an open toed pattern (to show of my pretty nails especially after a pedi… yes, I'm vain)
So this is my latest pair of beaded sandals (I've got two others. Pics on the way). Actually, I have no need to get these… I just wanted them. And they looked so pretty. So I picked my pattern and my color (you can choose both) and the nice lady made a pair of sandals for me.
See how pretty the little flowers look? And to think someone hand beaded them one by one. Oh the time taken… if I had to do it, my eyes would surely be totally crossed!
Finally, here's my lovely cheap pair of 'classy' heels. They were a "quick! I have to get these" type of buy. One size too big but at S$10 they were seriously a steal. Love the stitching detailing, the buckle and the nice red inside. Had to buy two sets of insoles just to make them a little more wearable.
Haven't worn any of these shoes yet.. been in a pretty casual mood lately. But they're sitting pretty on my shoe shelf and I can't wait to wear them. :)