TSS Storybook love - all over the lid, wore it for a while and decided it was too pink so...
TSS Risky Behaviour (wet) - all over the lid
TSS Symphony of Chaos - outer corner <>
TSS Lucky Charm - liner
TSS Moonlight Whimsey - highlighter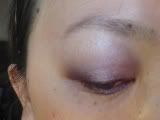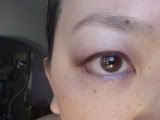 This turned out way darker than the photos show... kinda like a purple smokey eye. To me, it made my eyes look bigger even with glasses on. Probably something I'd try again.